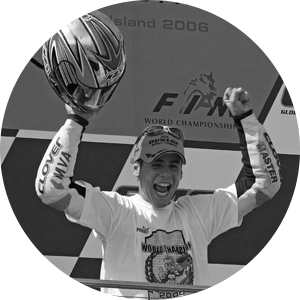 Born in Talavera de la Reina (Spain) on 21 November 1984, Alvaro
first rode a motorcycle at the age of three.

By the time he turned eight he was racing and finishing runner-up in a local championship in Madrid, being crowned

junior champion at the age of eleven.

In 1999 he came to national attention thanks to his performances in the Movistar Activa Joven series. From that point, Alvaro became

a professional motorbike rider, starting his amazing career on two wheels.
The Spaniard started competing in the MotoGP™ paddock
in 2002 and was crowned 125cc World Champion in 2006.

From there, he moved up into the 250cc class for three seasons (picking up eight wins along the way), before making the step into the premier class in 2010. With over 150 starts across four manufacturers in the MotoGP™ class alone,

Bautista is one of the most experienced men to have graced the Championship, racing for Suzuki, Honda, Aprilia and Ducati.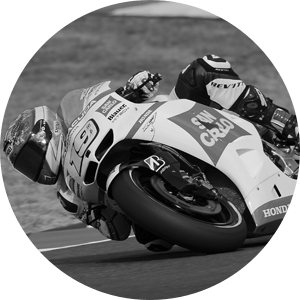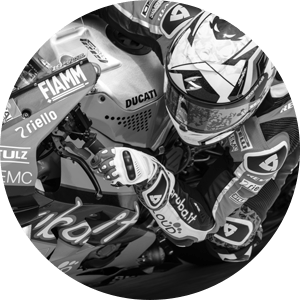 Alvaro switched to WorldSBK in 2019,

jumping onboard the all-new Panigale V4 R with the Aruba.It Racing – Ducati squad. What followed was

the best start ever to a WorldSBK career: 11 consecutive wins, many of them achieved in absolutely dominant fashion.

While his season would take a downturn through the middle half, the 36-year-old still managed to end the year with 16 wins and the runner-up spot in the standings.
After over than 20 years around the world, Alvaro
is ready to be back to the top,

after his incredible rookie season in 2019 and strong showing throughout 2020.

In 2021 Alvaro was able to achieve three amazing podium with his Honda, giving to the japanese motorbike the chance to be back on top.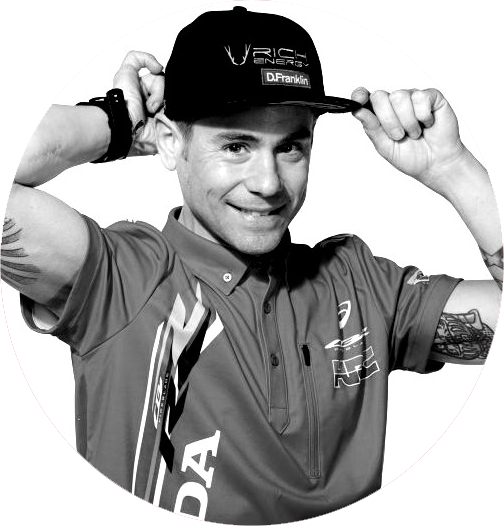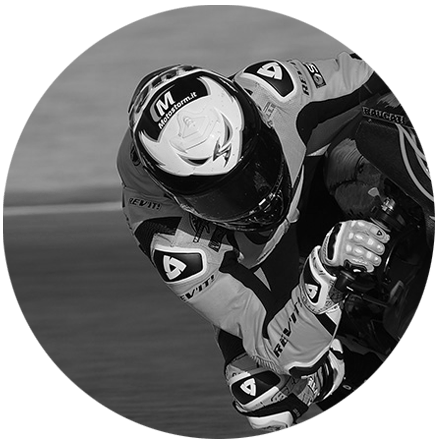 Alvaro Bautista will return to defend the Aruba.it Racing – Ducati Team colours
aboard the Ducati Panigale V4 R in the 2022 WorldSBK season.

In his debut season in WordSBK (2019) with the Panigale V4R of the Aruba.it Racing – Ducati Team, he obtained 16 victories (24 podiums in total),

finishing second in the championship standings. 1995 - 2002

125cc Spanish Championship

After being crown Junior Champion of the Spanish capital at the age of eleven and finished third in the same championship in 1998, Alvaro came to national attention thanks to his performances in the Movistar Activa Joven series. In 2001 he moved up to the 125cc Spanish Championship and in 2002 he fought for the title until the final round at Valencia, when he crashed.

2002 - 2005

125cc World Championship

In 2002 Alvaro started to compete in the 125cc European Championship and make his debut in the World Championship as a wildcard at four rounds. For the next three season he has been an official rider of the 125cc World Championship, increasing, year by year, his performances.

2006

125cc World Champion

After taking his first victory in his home Grand Prix at Jerez and going on to take seven more wins, Alvaro won the the 125cc World Championship title.

2007 - 2009

250cc World Champioship

Alvaro move up to the 250cc where he achieve 28 podiums over the three seasons in this class, including eight wins and the championship runner-up spot in 2008.

2010 - 2011

MotoGP World Championship Debut

Alvaro made the step up to MotoGP with Suzuki and after an intense learning year he showed his exciting premier-class promise on several occasions in 2011.

2012 - 2018

MotoGP World Championship

The 2012 season was Bautista's breakthrough year in MotoGP with the Team San Carlo Honda Gresini: two podium finishes, at Misano and Motegi, and fifth place overall in the championship. In 2013 Alvaro confirmed his undoubted potential, closing a positive growing season collecting nine finishes in the "top five" and making it sixth in the final standings. 2014 has been a difficult season for Alvaro, who could not really get the feel for the bike. Despite that he was able to seal a place on the podium in Le Mans. In 2015 Alvaro faced a new thrilling challenge becoming the official team Aprilia Gresini rider and in 2016 he has been able to put his APRILIA RS-GP in the top ten finish for 7 times so far. Before the end of the 2016 season, Alvaro Bautista and the Aspar Team announced an agreement to compete in the premier class with Ducati.

2019

WSBK Debut

Bautista made his Superbike debut with the Aruba.it Racing - Ducati team. The Spanish rider finished his first year in the WSBK championship with an impressive series of victories, sixteen in total, plus four second places and four third places for a total of 24 podiums out of a total of 36 races, concluding the championship in second position.

2020 - 2021

SBK World Championship, Honda HRC

Alvaro has sign with HRC factory team, being part of a new project that have the goal to develop the new CBR1000RR-R along with his new team mate Leon Haslam.

2022

SBK World Championship, Ducati Team

Alvaro Bautista will return to defend the Aruba.it Racing – Ducati Team colours aboard the Ducati Panigale V4 R in the 2022 WorldSBK season.

2022

SBK WORLD CHAMPION

On November 13th Alvaro has been crowned as the new SBK World Champion
MOTOGP ALL TIMES
First Grand Prix: 2002 (125cc)
Races: 157
World Titles: 1 (125cc)
First Grand Prix Win: 2006
Total Grand Prix Wins: 16
First Grand Prix Podium: 2004
Total Grand Prix Podiums: 49
First Pole Position: 2006
Total Pole Positions: 18

WSBK ALL TIMES
2022 World Champion
Podiums: 58
Wins: 32
Best lap race: 27
Pole Positions: 6